Royal Luxury Traveler is a small, local travel agency founded by three friends whose common passion is to create unique, exclusive and unforgettable travel experiences. We all have extensive experience working at some of the most well-known, high-end international tour operators. Over the years, we found that despite the high prices and great reputation, a demanding traveler can end up disappointed by impersonal service, standardized itineraries, and oversized tour groups. So we started our own travel agency convinced that we could do better.
Using our rare combination of local insight, global experience, and personal zeal to serve each individual client, we provide unique, personalized luxury itineraries based on every single person's specific motivations in visiting South America. We are passionate travelers just like you, and we are constantly looking for original and exclusive experiences that never fall short.
We deeply believe in the Andean philosophy of Ayni, which holds that every aspect of life should be reciprocal, a give and take. Travel is no exception; we as hosts, and you as our guest, are here to learn from each other, sharing our experiences, dreams and purposes in life. Likewise, we are dedicated to sustainable practices in tourism, treading lightly on the environment and with reverence for local people and cultures we visit.
Royal Luxury Traveler was born with the purpose of giving our exclusive customers the most unforgettable and original travel experiences available, all while ensuring seamless execution and professionalism from the moment you first contact us to the moment you return home after the vacation of a lifetime. If you demand unique travel experiences of the highest quality, with exclusivity, privacy, luxury and relentless attention to detail, then Royal Luxury Traveler is the perfect match for you.
Put your trip in our hands and enjoy what tailor-made luxury travel is all about: you!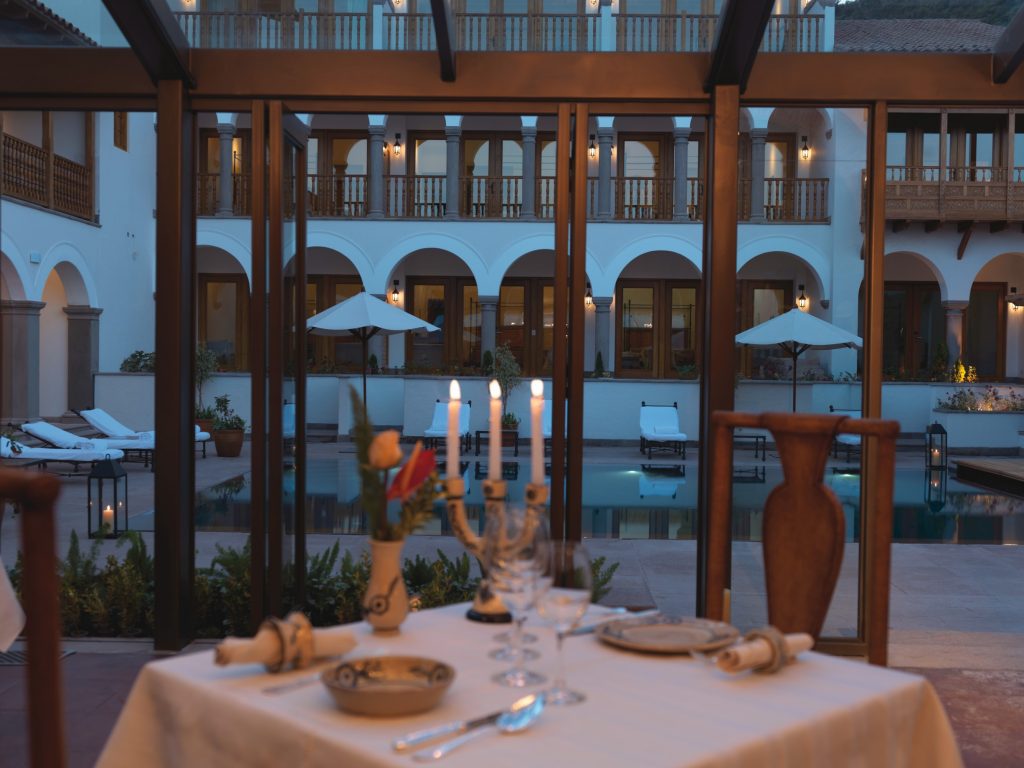 We work hand-in-hand with our clients, designing truly personalized, finely-turned journeys of a lifetime.
We are the luxury travel pioneers in Peru, Bolivia and Ecuador. Simply no one else has our knowledge, our contacts or our access to exclusive experiences.
Round-the-clock personal concierge support makes sure that every detail is taken care of by your designated travel designer.

From the very start, we have adhered to responsible travel practices, aiming to reduce the impact of tourism on the environment and to celebrate local cultures through long-term relationships and hands-on involvement in green projects.

Our unrivaled network of on-the-ground experts, local insiders and hand-picked guides ensures we have exclusive access to private collections, houses, and the very best travel experiences.

We go beyond conventional definitions of luxury to embrace authentic, untapped experiences.
WE WORK ONLY WITH THE BEST​
KNOWING US
Once you establish contact with Royal Luxury Traveler, we will determine the basic concepts: where you want to go, how you like to travel, your schedule, assumptions, who will accompany you, health and diet considerations, etc. The continuation, we move on to the yoke. bits: your interests and passions, and what motivates you. Armed with this useful information, we set about working on the creation of a complementary itinerary proposal for your personalized trip to South America.
DEVELOPMENT OF THE ITINERARY
This is a private and totally personalized tour, so we believe it is fair that you can express your opinion. That's why at this stage, we turn to us so you can share your thoughts. Once we have received your comments, we will begin to refine your itinerary, while remaining in contact by phone and email in case you have any ideas, concerns or lightning realization. The process continues until we have created an itinerary that really gets me excited!
FINALIZATION, CONFIRMATION AND DEPOSIT
Once you give us the visa and the final approval of the itinerary, we will start confirming hotels and trains. After two or three days, we will inform you with updates. At this point, we also ask for a deposit of 30 percent. Once the deposit is received, we will continue to organize the details of your personalized trip, reserving tours, transport and entrance tickets. We confirm all reservations in advance, so you know exactly what to expect and don't have to worry about unexpected changes at the last minute.
PREPARING TO COME
After carefully studying the details and ensuring that everything is in place, we will send you the complete and detailed itinerary of your luxury tour by email. Here's when you really get emotional. Your imminent trip will seem more real than ever as you read the daily reports of the planned activities, such as the names and directions of the hotels, the schedules of the meetings of the guides, the key information of transport and the locations.
LEGACY AND YOUR TRAVEL EXPERIENCE
As soon as you arrive, your Royal Luxury Traveler host will receive you at the airport and take you to your hotel, review your itinerary, give you instructions to meet with your guide and, in general, make sure that everything is as good as possible for you. usted. Does anyone ask the persistent doubt? Now is the time to ask! After that, your guides will take care of all the day-to-day logistics, as well as dealing with any unexpected obstacle you encounter. A Royal Luxury Traveler customer service representative will also communicate with you each day to ensure that everything goes as expected. If you have an urgent question or need help, the Royal Luxury Traveler team is always available 24 hours a day, 7 days a week via Whatsapp, phone and email.
COMING BACK HOME
We will do everything possible so that your return trip home is as peaceful as possible. A member of the Royal Luxury Traveler team will accompany you to the airport and make sure that you are comfortably installed in your departure vehicle. We will also be located on your return.